Laboratory sinks and laboratory washbasins for hygienic work
Laboratory sinks are part of the basic equipment in most laboratories. They enable personnel to work hygienically and are also essential for many processes. Straightforward access to water needs to be guaranteed to ensure efficient workflows and processes in day-to-day working life. Waldner therefore produces a series of different laboratory sink designs, which can be coordinated to the individual situation in your laboratory.
Generously sized sinks, drip cups, sink modules and mobile laboratory sinks are part of our versatile product range. Waldner laboratory sinks are made of sturdy and durable materials, including stoneware, polypropylene (PP) or stainless steel. All different installation versions are possible.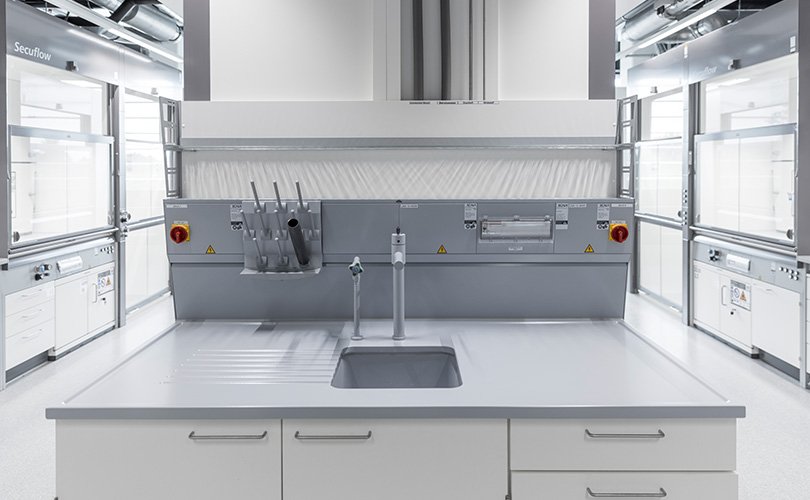 Waldner laboratory sinks – what sets them apart?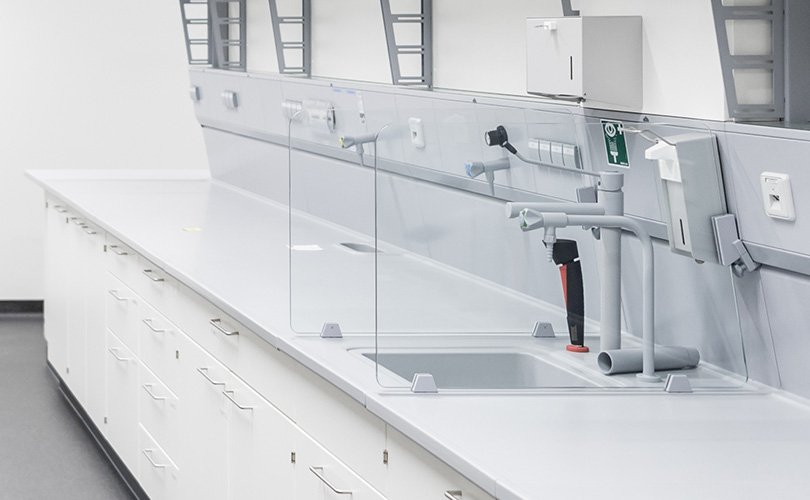 Waldner laboratory sinks are perfect for any operator seeking a high-quality laboratory sink to precisely meet their unique requirements in a specific laboratory. The quality, safety and convenience of Waldner laboratory sinks are impressive and they always blend perfectly into the surrounding laboratory furniture.
Waldner laboratory sinks are coordinated to the modular SCALA laboratory system, allowing them to be seamlessly integrated into Waldner laboratory benches. Waldner's mobile laboratory sinks are ideal when mobility is called for. They can be flexibly docked to a service module and allow a fully-fledged sink unit to be used throughout the laboratory.
Versatile laboratory sink and washbasin designs
Access to service water needs to fulfil different requirements in laboratories. Waldner laboratory sinks come in a series of diverse designs and are equipped with individually selectable worktops.
Laboratory sinks with built-in basin
Waldner traditional laboratory sinks with built-in basin enhance your laboratory furniture with a reliable module for the supply and disposal of water. These laboratory sinks come in various sizes, all of which are capable of handling large volumes of water.
The following materials and worktops are available with our laboratory sinks:
Stoneware laboratory sinks: flush-mounted in a stoneware worktop or stoneware-composite worktop

Polypropylene (PP) laboratory sinks: can be recessed into a melamine, solid (grade) laminate worktop or welded to a polypropylene plate

Stainless steel laboratory sinks: can be combined with melamine and solid (grade) laminate worktops or a stainless steel surface

Epoxy laboratory sinks: ideal for integration into an epoxy resin worktop
Water and waste water connections are permanent connections with this model. Laboratory sinks can optionally be equipped with an eye shower and a bench mounted service outlet.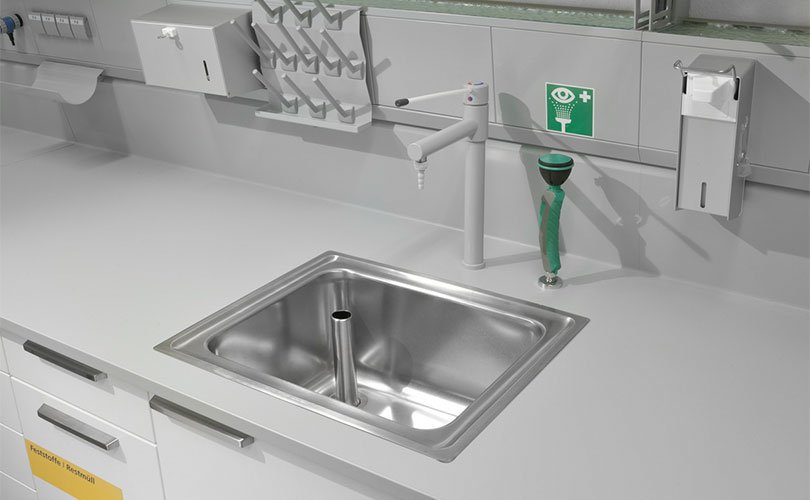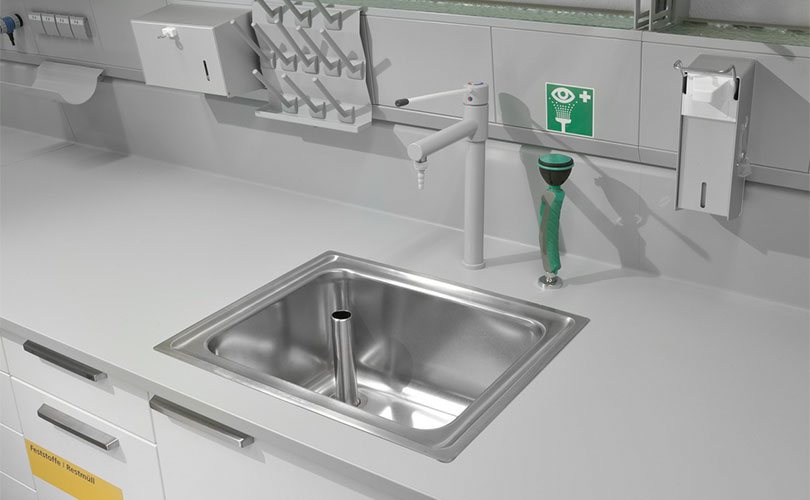 Our sink modules, which are fastened to the fascia panel of a service spine, are compact polypropylene laboratory sinks. They provide for space-saving supply and disposal of water. However, these sinks are only capable of holding smaller volumes of water.
As they are fastened to the service spine, the sink modules feature a fixed connection for water and waste water. Spine fittings can optionally be selected.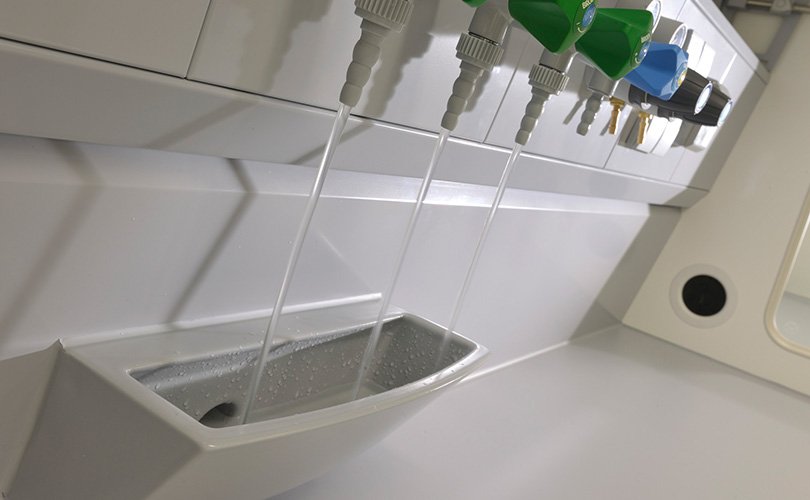 Waldner drip cups are as compact as the above sink modules, but are recessed directly into the worktop. Drip cups are smaller than traditional laboratory sinks. They therefore take up hardly any space on the laboratory bench, nonetheless reliably supplying the laboratory workstation with water.
These compact laboratory sinks are produced from stoneware, polypropylene, stainless steel or epoxy resin. They can be integrated into various worktops. They feature a permanent water and waste water connection as standard. Drip cups can also be equipped with bench mounted service outlets if required.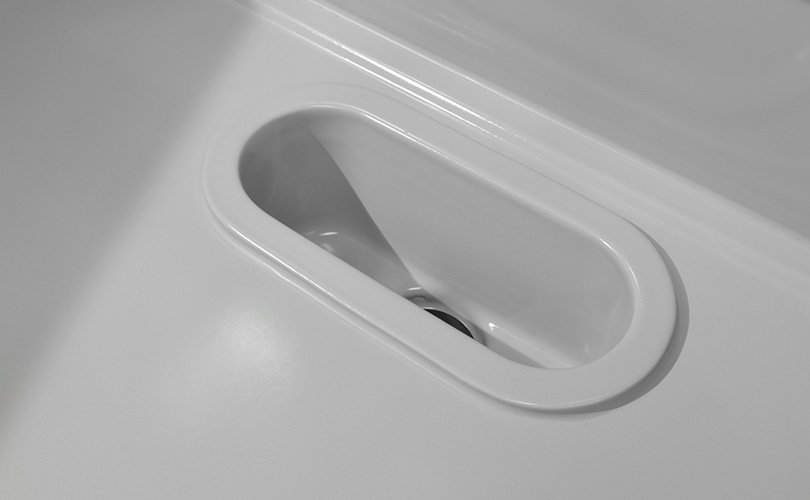 Featuring four smooth-running castors, mobile laboratory sinks complement adaptable laboratories. Flexible lines on the rear enable the mobile sink to be connected directly to the service wing or service ceiling system. This provides for mobile supply and disposal of water (with a built-in lifting system) wherever it is needed in the laboratory.
These flexible laboratory sinks consist of a melamine resin-coated worktop into which a plastic (polypropylene) laboratory sink is recessed. These sinks are therefore ideal for cleaning equipment wherever they are required.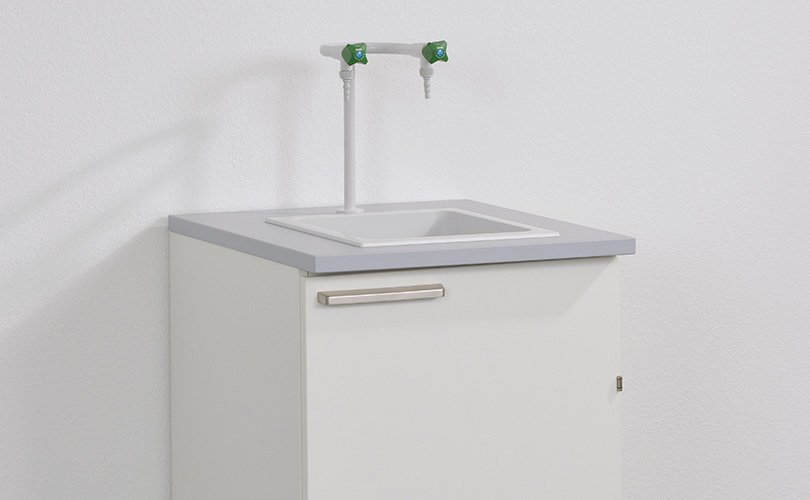 Laboratory sink compact units (AquaEl)
The AquaEl is a plug-in compact system for the mobile supply and disposal of water. With a total weight of 14 kg, these compact laboratory sinks are perfect for versatile use with mobile or stationary laboratory workstations. They simply need to be connected to a service module – and are immediately ready for use. A lifting system built into the housing discharges the waste water.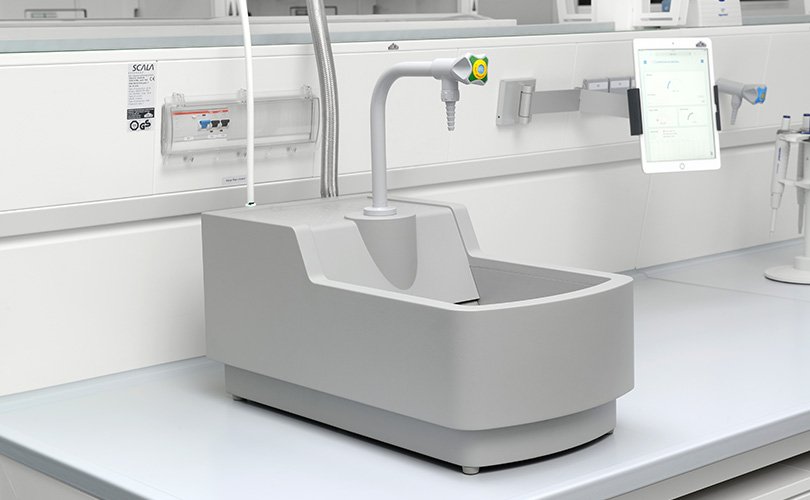 Curious?
Let us discover together how Waldner can equip your laboratory with the right model of laboratory sink.
You might also be interested in