Hygienic Filling
Cup and lid sterilisation is the prerequisite for the lasting quality of food. Waldner relies on UV and IR light, flashing light radiation, and hydrogen peroxide treatment in packaging sterilisation. If need be, these processes can be carried out with hygienic filling zones within clean or sterile air and/or an inert gas atmosphere. The right selection and configuration of the filling machine is critical in this. The different levels of hygiene and sterilisation have to be clearly differentiated from each other.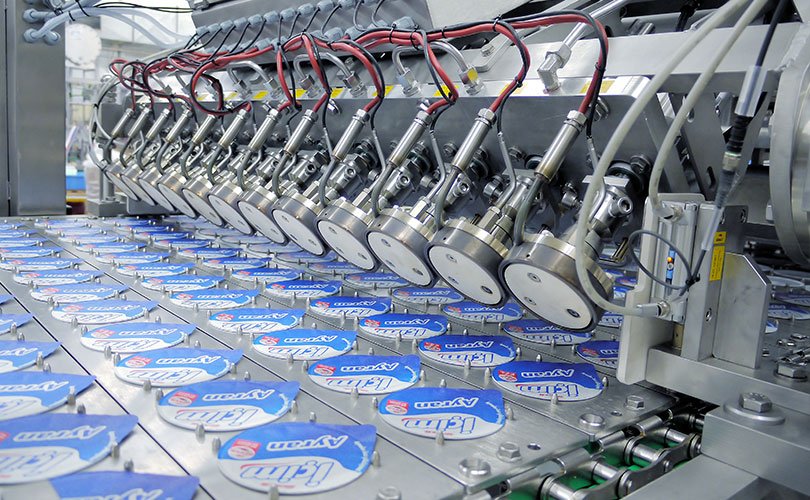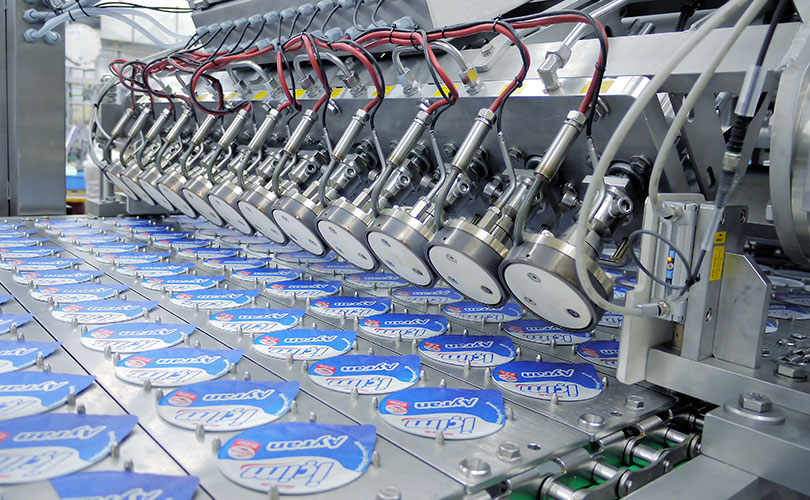 Cup sterilisation with H2O2 and hot sterile air
Waldner relies on "dry" H2O2 sterilisation for this: a sterile module generates sterile air and electric heating elements heat it up to the required reaction temperatures. The heated air is mixed with micro-atomised and cyclically precisely dosed hydrogen peroxide and passes along a flow technology-based pipe system to the inner surface of the packaging. This achieves three effects, thanks to displacement bodies (with cup sterilisation) and the special arrangement of nozzles:
This reduces the space volume to be sterilised by 90 percent.
The flow of the heated air/H2O2 mixture is extremely turbulent.
There follows complete micro-condensation of the H2O2 on the walls of the container, an aspect that is ultimately decisive for the efficiency of the sterilisation.
This process takes place at comparatively low temperatures, due to the technically precisely coordinated processes and exceptional peroxide microdistribution by microcondensation, resulting in no deformation even with sensitive packaging material. At less than 0.5 ppm, the residual peroxide values are minimal – far below the statutory rates – coupled with maximum effectiveness (> 5 log for almost every design of packaging).
Cup sterilisation with UVC lamp unit
Specifically designed to kill and/or disable mould-formers.
UV high-pressure lamps
Lamp housing with cooling fan
Control unit to control the radiation strength
Cup sterilisation with "Pulsed Light"
A highly intensive flash of light with a flash duration of approx. 0.3 ms affects the inner surface of the cup, effectively sterilising it. The output of the UVC lamps is briefly increased to 100 percent when the packaging is under the lamp unit. During the filling machine's transport cycle, the output is once again reduced to 40-60 percent to minimise energy consumption and heat development. Dichroically-coated reflectors further reduce the generation of IR thermal radiation. As light treatment does not leave any active agents in the packaging material, no residual peroxide measurement needs to be carried out. Almost all cup packaging holding up to 1,000 ml can be reliably sterilised to 3-5 log reduction of germs.
Set-up of a UVC lamp unit on the Dosomat film unwinder. The film is irradiated with UVC light, thereby sufficiently disabling mould-formers in particular.
The combination of a clean air cabin (laminar flow) with the specified filter classes and packaging sterilisation produces an essentially sealed clean room and is excellent for the following applications:
Treatment of germ-polluted packaging material
Use in rooms with high levels of air pollution through mould or other airborne germs
Use in low-ceiling rooms with high levels of air recirculation
Use in rooms with through-traffic (fork-lift trucks, goods transport)
THIS COULD ALSO BE INTERESTING FOR YOU