Non-standard as standard
Safety and ergonomics are the top priority with our isolators. We design, simulate and manufacture your unique Waldner isolator precisely tailored to your process. It is no coincidence that this is not a standard solution. Our experience has shown that only individual solutions can really meet the requirements that make your project unique. This enables us to work together to optimise ergonomics and improve the satisfaction of your operating personnel.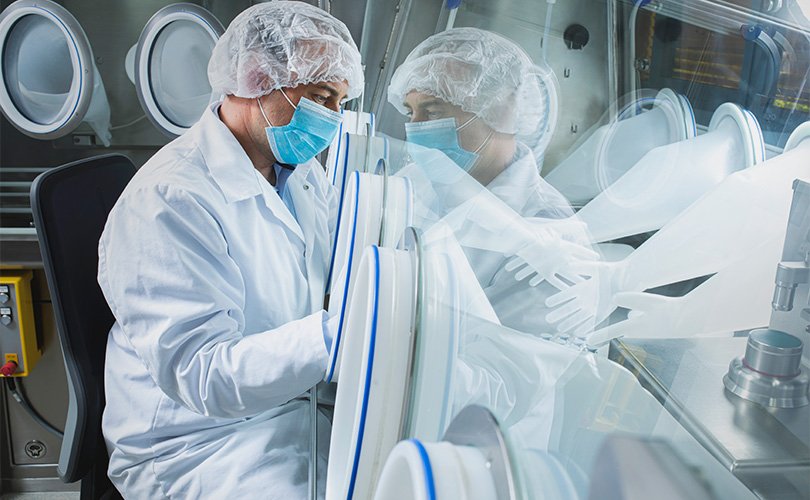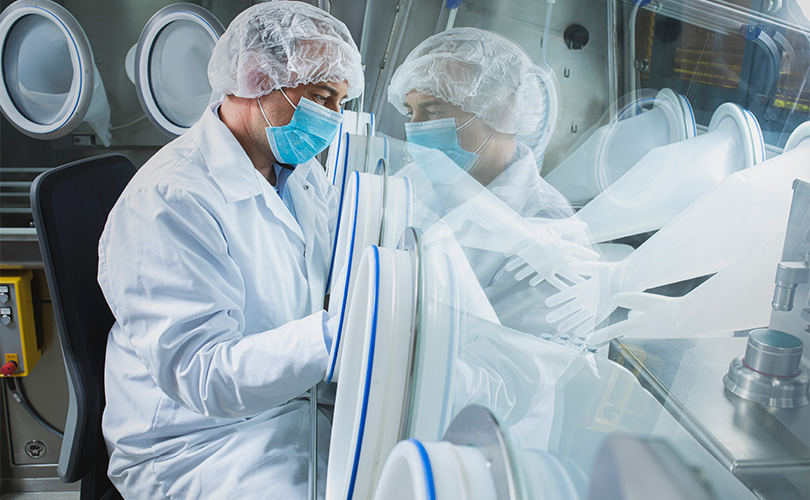 Isolator interface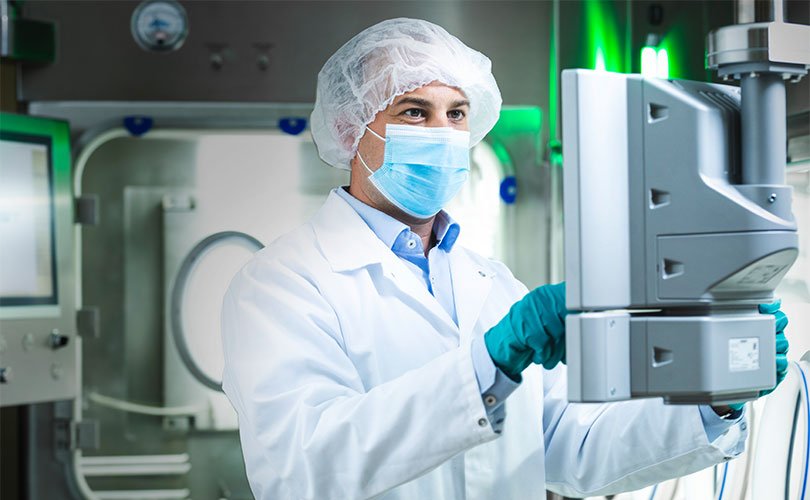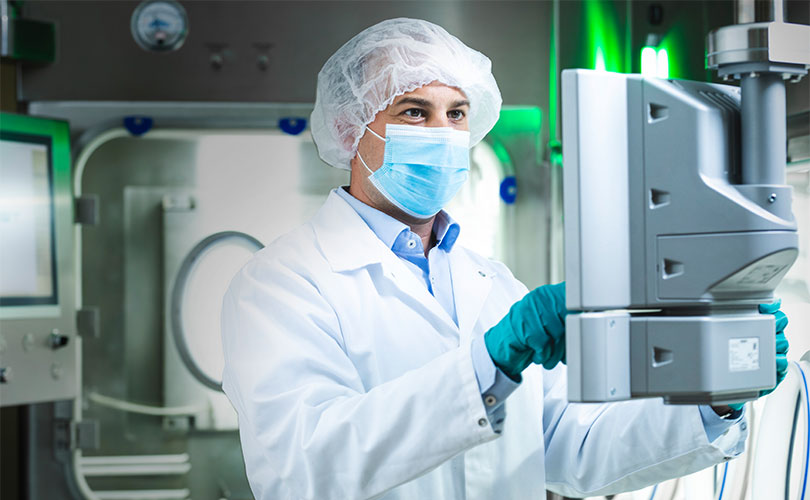 We supply you with a system that includes all the components you require, such as scales, mills or docking systems, to ensure that both procurement and operation run smoothly. This simplifies the planning phase for you, but also makes life easier after commissioning – as we also take responsibility for the interfaces to the integrated process equipment, regardless of the manufacturer. We also program and test an interface for connection to your in-house control system before commissioning, saving you a lot of valuable time during installation.
Control and ventilation technology
Our isolators are primarily equipped with a Siemens S7 controller. Alternatively, control can also be provided by an industrial PC (IPC) or, possibly, an on-site system. We usually use an H14 push-push filter on the supply air side and two H14 push-push filters on the exhaust side of the ventilation system. The isolator can also be operated fully inertly with a nitrogen atmosphere when ex-proof requirements need to be fulfilled or with oxygen-sensitive products. And we can also offer you an appropriate controller if you have special requirements in terms of temperature and humidity.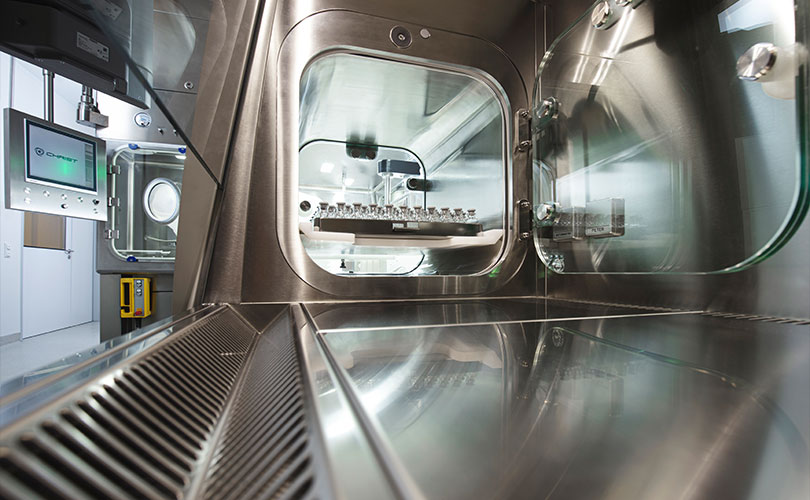 Glove test equipment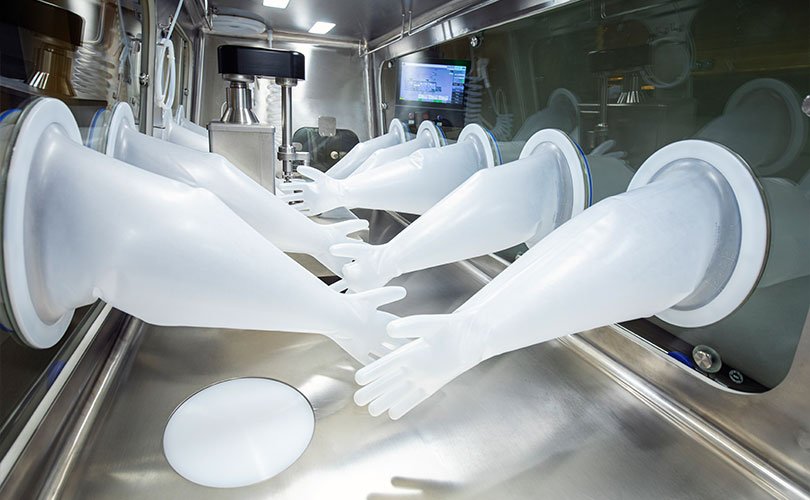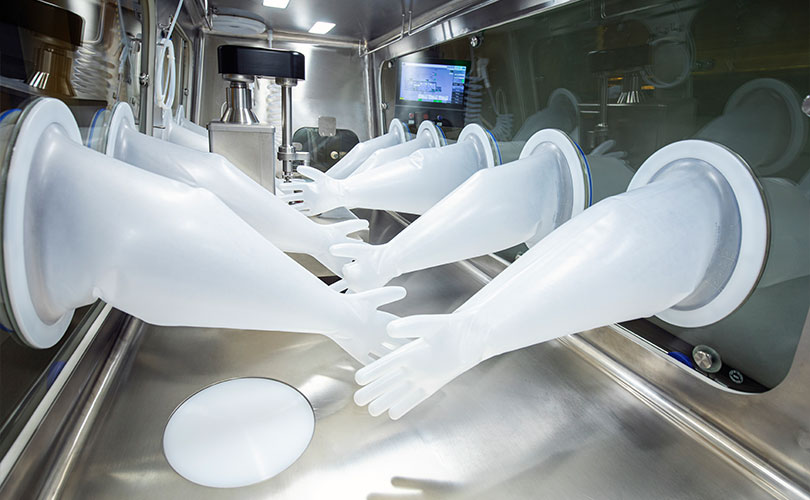 Gloves are the Achilles heel of isolators and gloveboxes. We supply a range of different glove testing equipment to regularly test their air-tightness: From manual test discs with analogue pressure gauges, fully automatic glove test discs with integrated battery and control, to Wi-fi-supported test systems that can be fully integrated into your system control..
Weighing isolator with integrated scales
We integrate the most diverse types of scales into isolators to weigh active substances under isolator conditions. A decoupled weighing plate (granite stone) can also be integrated into the isolator on which the scales sit to achieve ultra-precise weighing accuracy. The scales can also be integrated into the isolator at floor level to avoid lifting heavy loads into the isolator. Many scales have a wash-down mode or appropriate IP protection code for wet cleaning or decontamination.
Formulation isolator with connected vessels
There are many ways to connect a container to an insulator. Once again here, we are guided by your specification. We can connect all systems to our isolators, from welded containers, mobile containers with double flaps to disposable containers. Our Waldner docking system is recommended for "docking" a mobile container. This system is pressure-resistant up to 6 bar and the container can be docked and undocked without the risk of contamination.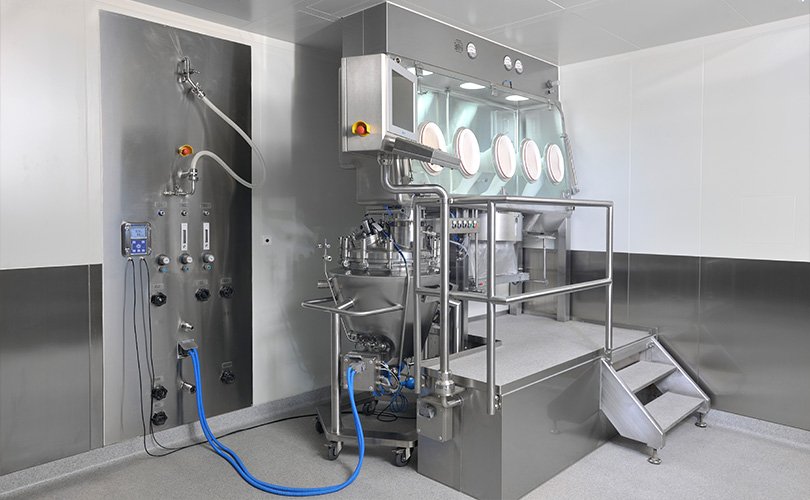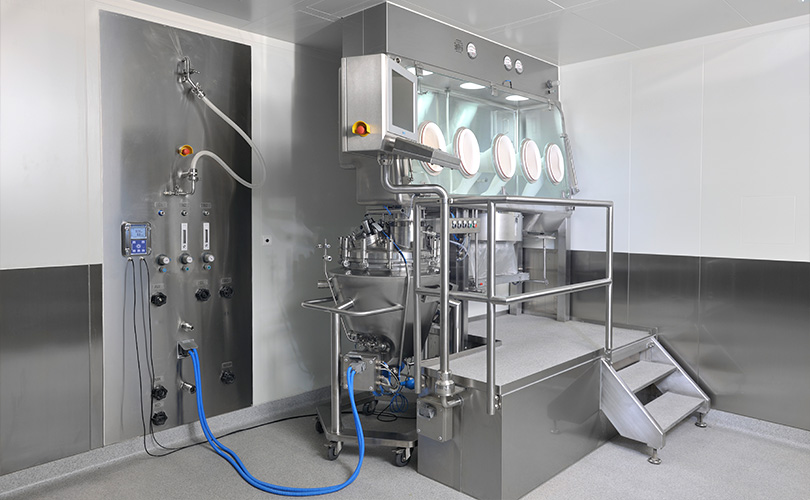 Isolators for in-process control (IPC)
Usually a large amount of equipment needs to be integrated into IPC isolators. It is often possible to place equipment components outside of the isolator to simplify the cleaning of the interior. What is important here is that cables and lines enter the interior of the isolator air-tightly.
Pressurised containers can be docked directly to an isolator using the Waldner docking system. Among other things, this enables highly active substances to be weighed directly in a batching container, ensuring maximum possible protection for the operator. The Waldner docking system is distinguished by the following benefits:
The batching container does not need to be lifted to "dock"
There is no valve disc in the filling opening, meaning that the complete opening (approx. 140 mm) is available obstacle-free
Despite the docking system, the container remains pressurised and can be operated up to a high pressure of 6 bar
Automatic cleaning of the docking system before "undocking"
Protection against accidental opening under pressure
No additional vacuuming system is needed
Low overall height
Robust design
Can be opened without a counterpart for maintenance on the container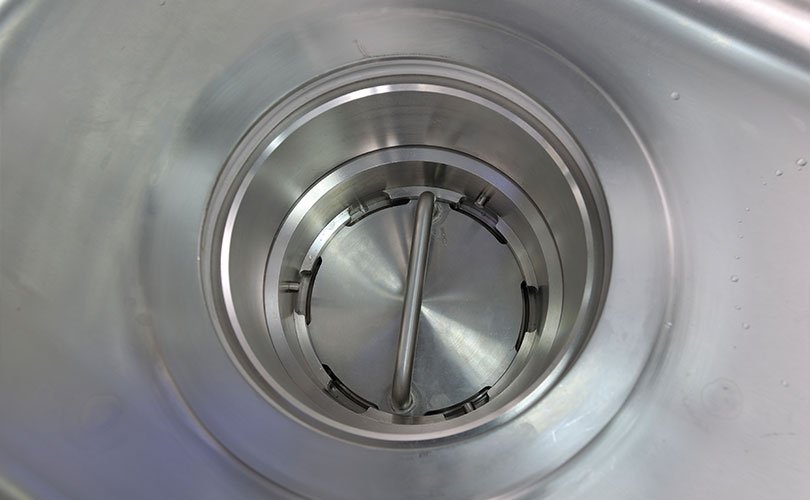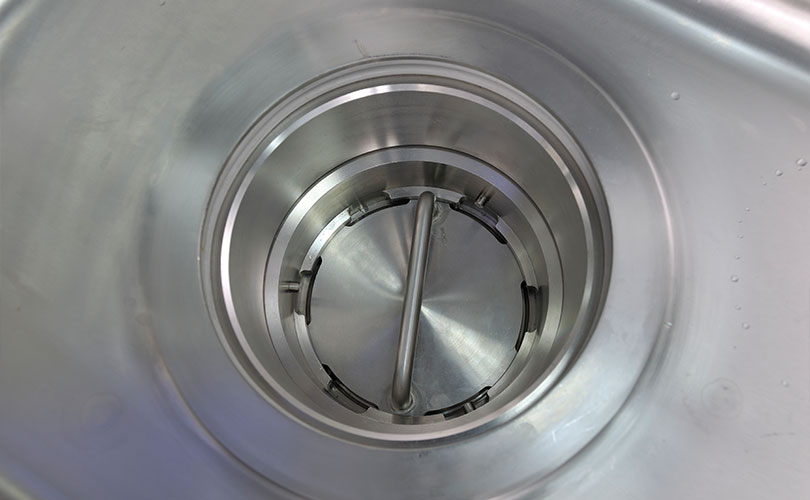 Isolator for loading a freeze dryer
Once again here, the focus is on operator protection: by being integrated in an isolator, the operator can place the open vials in the freeze dryer using the glove ports and an automated loading table. The vials are fed in via a double lock system. A safety workbench provides the first material lock, while the second one is attached to the isolator and can be operated from the safety workbench and from the isolator. Of course, only one door of the lock can be opened at a time (interlock) by means of a special safety control.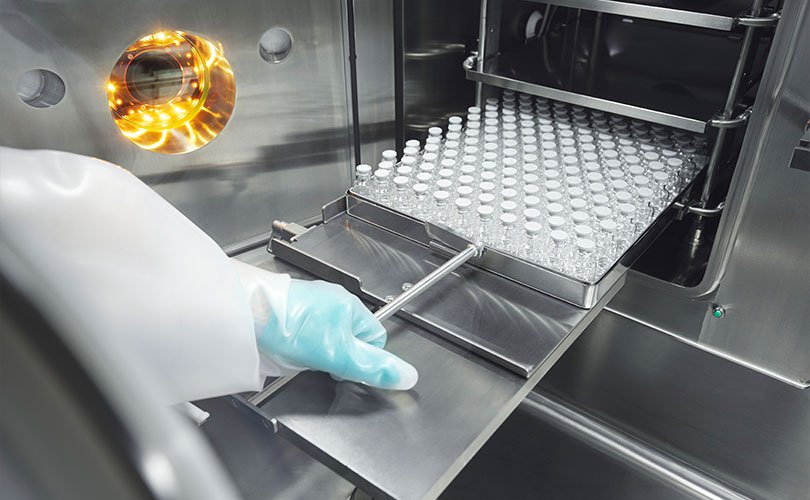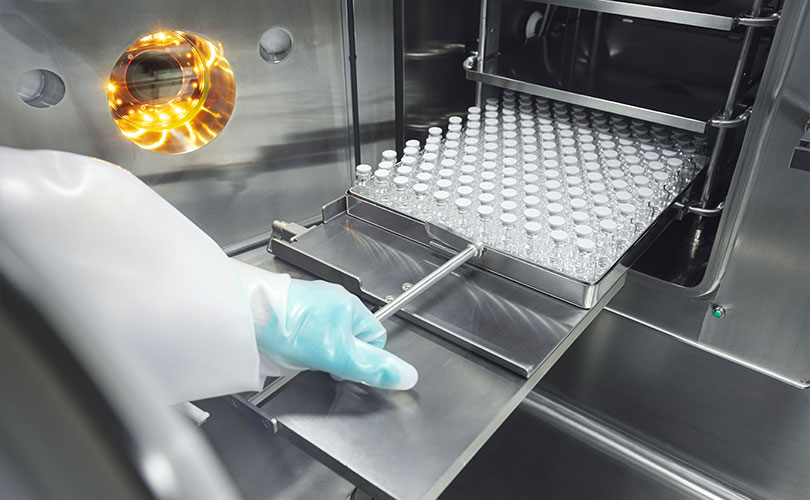 Isolator with vacuum tray dryer
Combining the isolator with a Waldner vacuum drying cabinet is particularly beneficial. We can supply our in-house produced vacuum drying cabinets and integrate them into our isolators. The special door mechanism ensures that the door in the isolator can be opened with ease even with a large drying cabinet.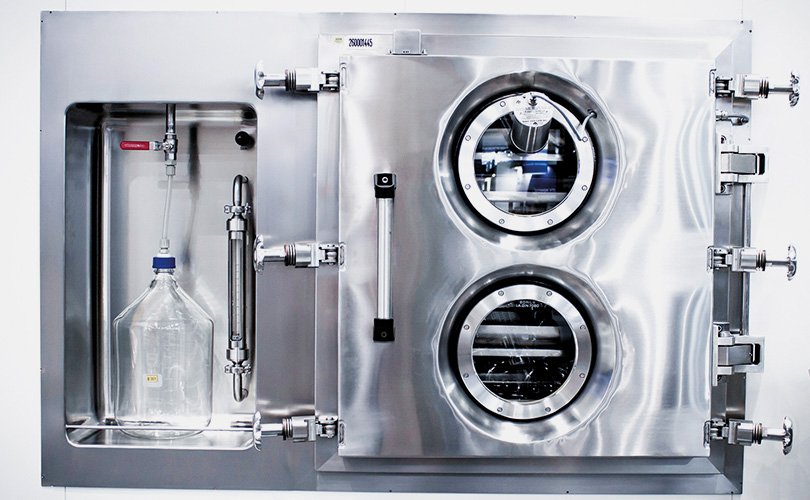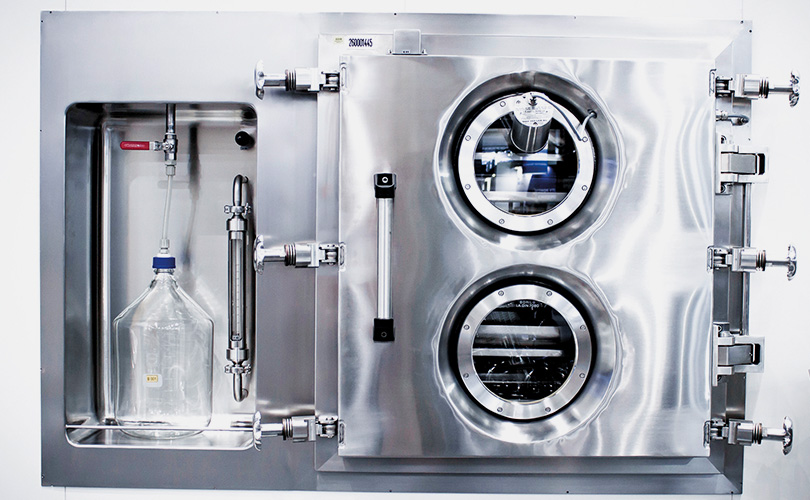 More and more isolators are also being used in laboratories. They are mainly used to protect the operator when performing different development and analysis work in the isolator. A wide variety of laboratory and analytical instruments can be integrated into the insulator.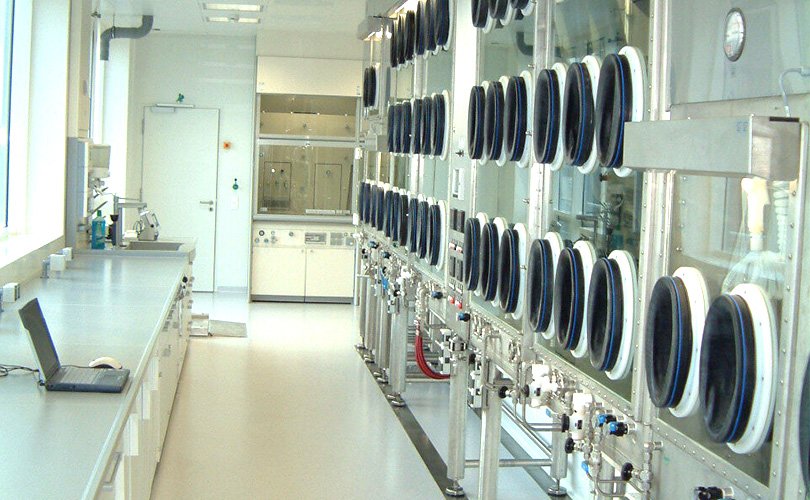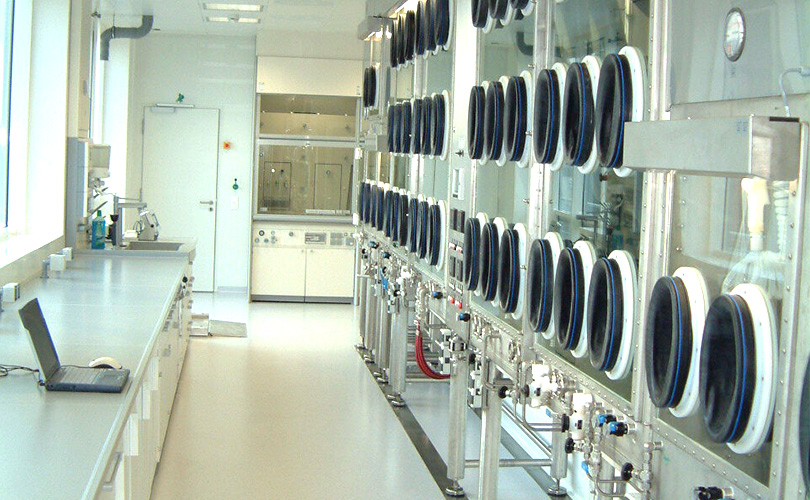 Isolator with integrated screen mill
Dust can escape when grinding potentially dangerous products. The screen mill can be integrated in an isolator to protect the operator as best as possible. The products can be fed in and out through material lock chambers or an endless liner system.
This type of isolator is used when large volumes of a product are to be fed or transferred into a container and/or reactor. Fast and contamination-free docking and undocking of the drums is crucial here.
Isolator for glass reactors
Isolators for glass reactors usually have a very sophisticated design as numerous glove interventions occur with them. All areas of the system need to be totally accessible to disassemble or reconstruct the system for cleaning, among other things.
A fluidised bed granulator, rapid mixer and screen mill can be integrated in the isolator for the production of tablets with highly active substances.
This could also be interesting for you