Service modules for a safe service supply
Service modules supply laboratories with all the services that scientists and lab personnel need for their work. They are crucial in any laboratory required to meet exacting standards. Service modules need to supply workstations with all the services they need (such as mechanical services and electricity), must be ergonomic to use, save space and energy, and be adaptable.
Waldner supplies a wide range of solutions for maximum versatility and flexibility. Waldner service modules provide adequate space to route the required services within them, and additional outlets, sockets and IT sockets can be added, as required. Fittings and controls are easy to reach by tilting the service panels towards the user.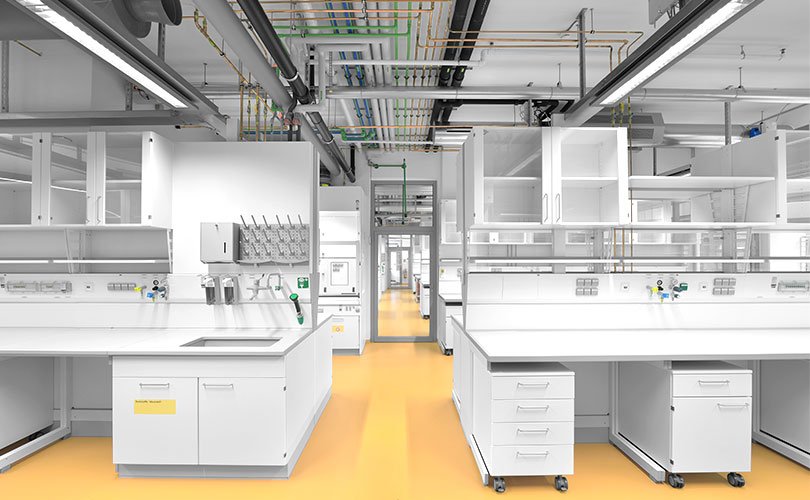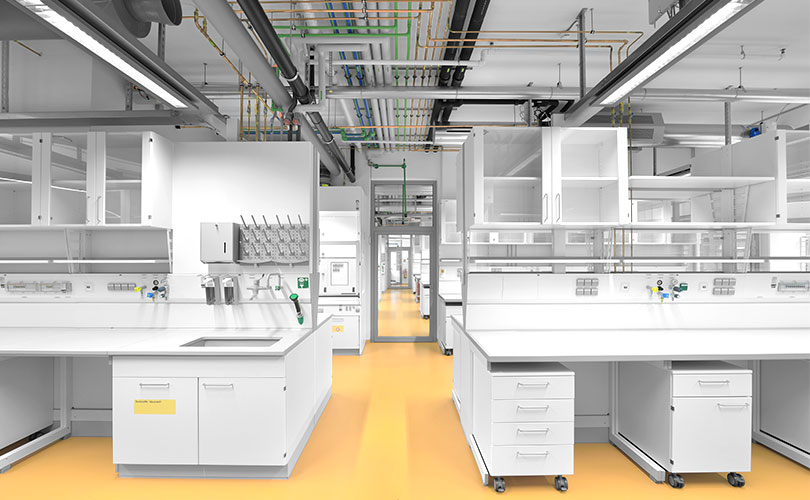 Maximum versatility with modular service modules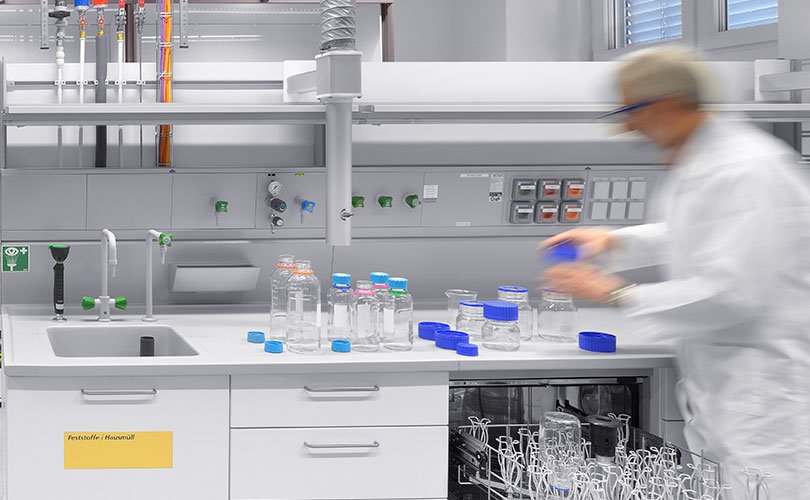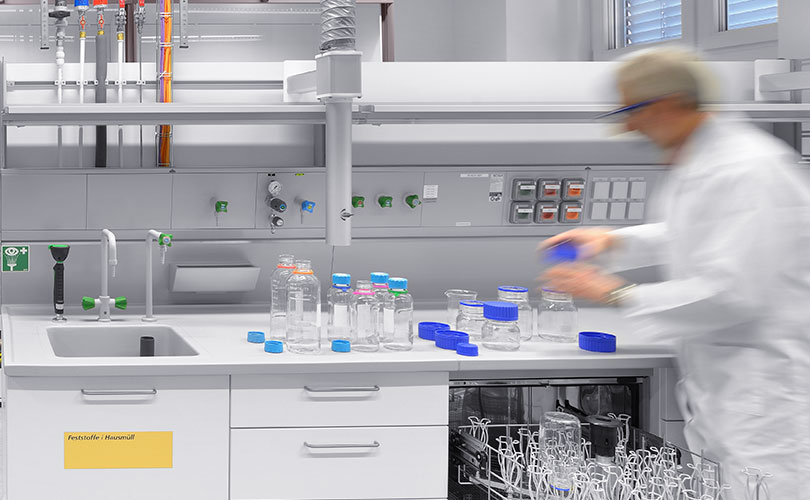 Waldner service modules are modular in design. Thanks to their modular construction, they can be adapted precisely to the needs of your laboratory. You, the customer, determine how many connections the service module needs and now the service panels are to be equipped. The individual panels have a flat design and are seamlessly inserted into the module to guarantee simple and effective cleaning and meet the most exacting hygienic requirements.
And should the demands on existing service modules change, then Waldner products can be converted or retrofitted in an instant. Supply lines for water and compressed air can be quickly and easily extended.
Waldner service modules – the range of models
Service modules come in a range of modules, all designed for different laboratory work. We outline below the seven different types of service module and their specific benefits for your laboratory.
The height of the service walls ducts on walls can be varied. They are equipped with panel technology and an accessory rail for various equipment, with integration of all IT outlets – including sockets and multiple connectors. Further benefits include:
Extension and adaptation of the service supply, thanks to replaceable service panels
Tool-free assembly of supplementary service duct element fittings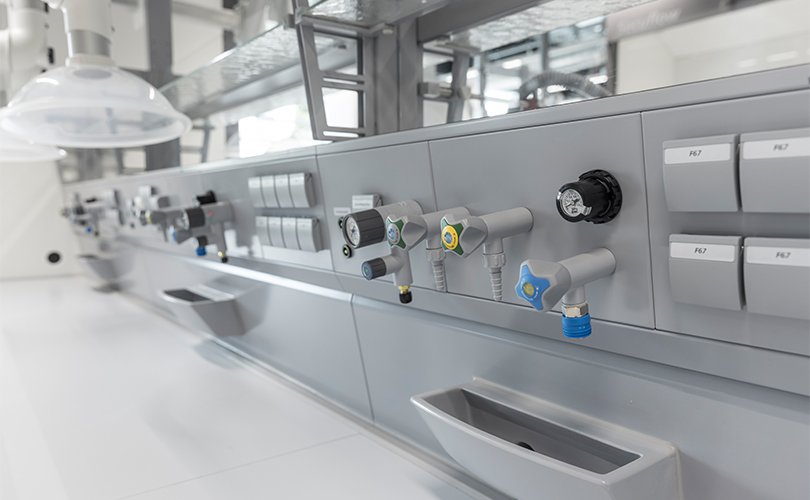 Service spines are stand-alone units and serve as a floor-standing supply source for wall benches and double-sided work benches, mobile tables or floor-standing laboratory equipment. The supply lines are routed below the working height with branch pipes supplying the valves. Laboratory personnel can thus perfectly access them and equip them as required.
Various configuration options and designs are available to adapt these service modules to your respective laboratory furniture. Service spines can also be subsequently adapted or added to. Further benefits include:
Designs for biological safety zones S1 - S3**
Modular mounting of fittings, such as equipment brackets
Tool-free assembly of supplementary fittings
Accommodation of water and waste water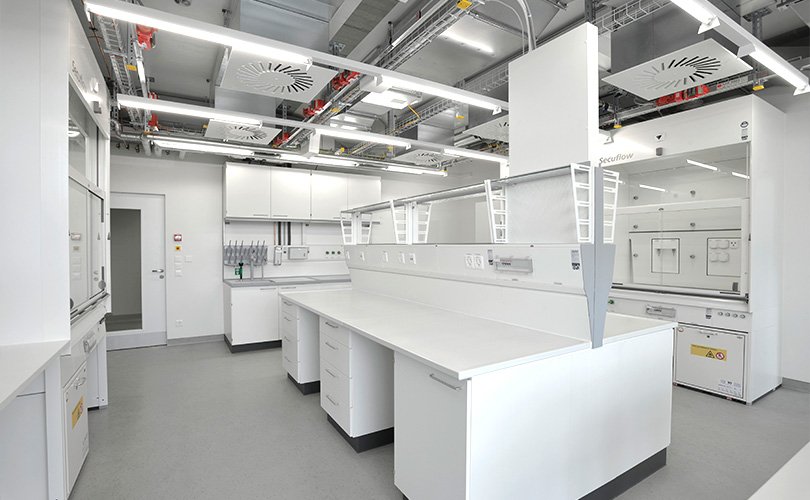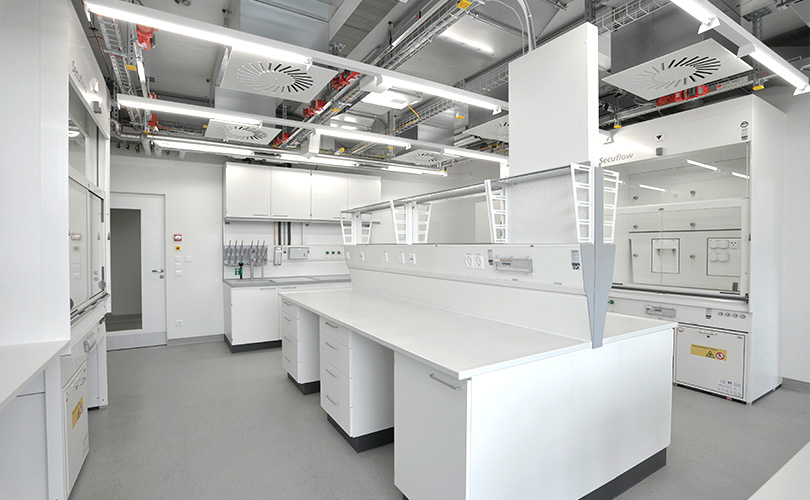 Waldner service wings offer maximum flexibility: all media, such as electronics and mechanical services, IT, energy-saving lighting, extract air and waste water disposal, can be integrated in this central ceiling element. Services wings thus offer customers maximum freedom to move them around for independent layout design. Further benefits of service wings include:
Laboratory benches and sinks positioned under the service wing
Local extraction equipment, e.g. for the AeroEm
Connection of laboratory equipment on mobile tables or underbench units
Tool-free assembly of supplementary service wing fittings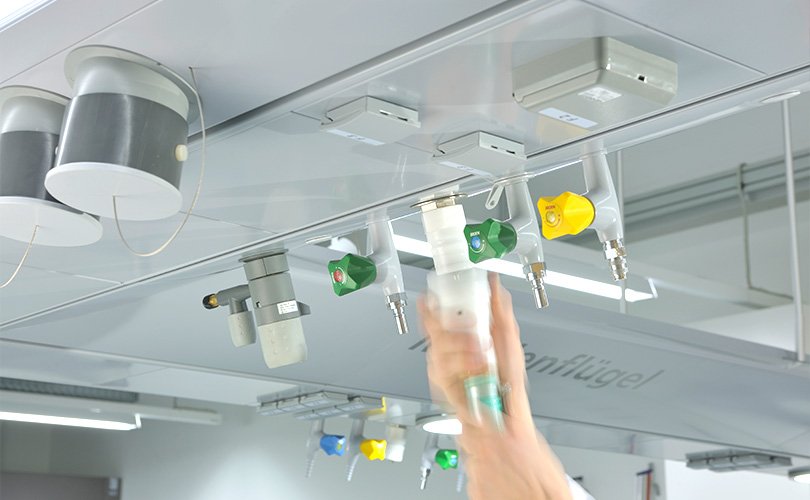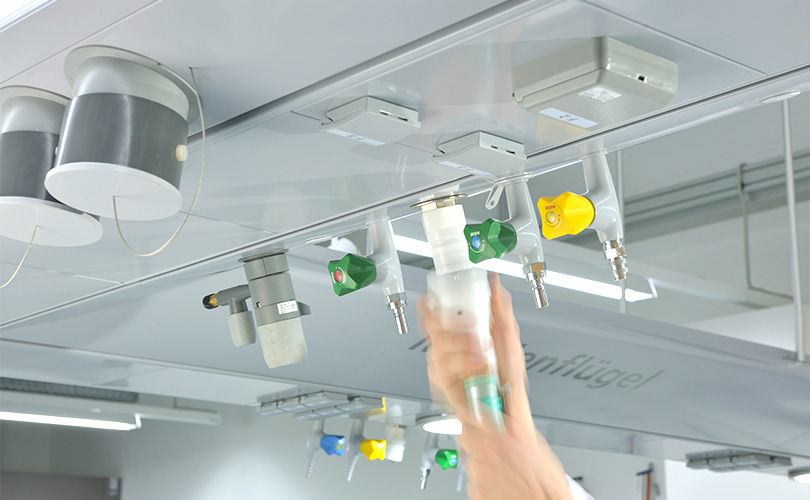 Suspended service booms can be used with any layout design as elements suspended from the ceiling of the laboratory. They can be equipped with removable service panels and accessory rails. Their height can also be individually adjusted. Suspended service booms also impress with the following benefits:
Modular fastening of fittings to the supporting construction
Designs for biological safety zones S1 - S3**
Tool-free assembly of supplementary fittings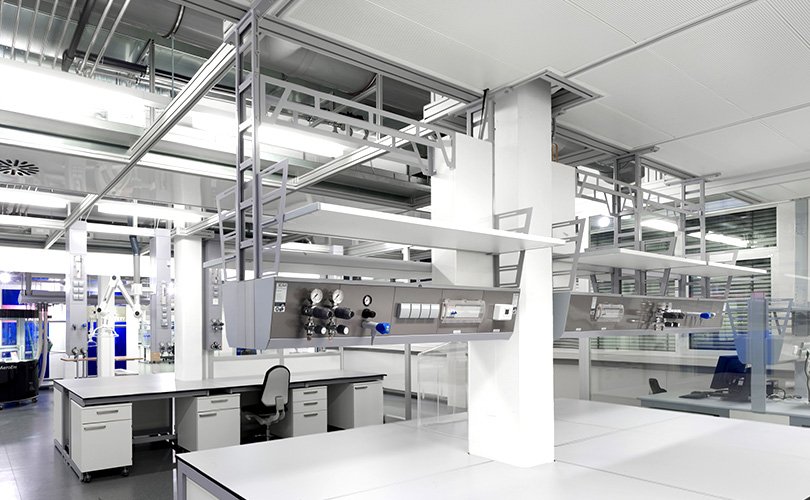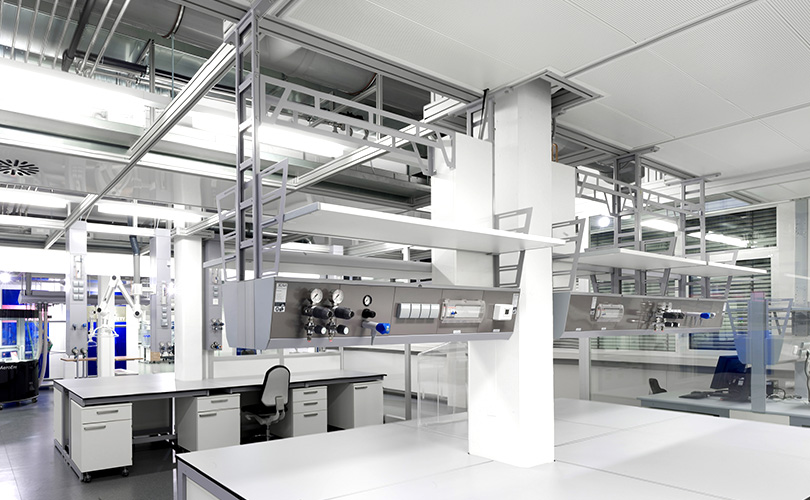 Waldner's service columns, which act as a compact service supply, guarantee transparent space design. Service modules are ideal for wall or ceiling mounting and can also be used as free-standing units on castors. Further benefits include:
One- or two-sided design
Available in a range of cross-sections (100x130 mm to 180x190 mm)
Capable of being converted and repositioned in a matter of minutes, ideally in conjunction with the Dimensions ceiling grid
Designs for biological safety zones S1 - S3**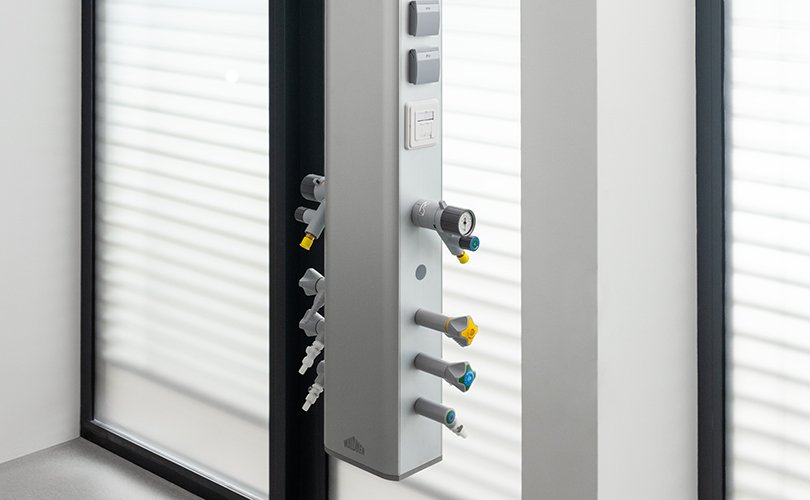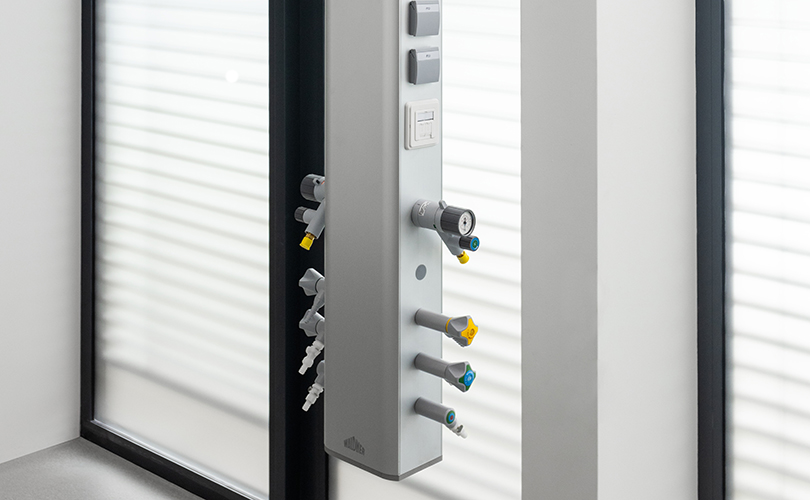 Service distribution terminals
Service distribution terminals are a good option when you are seeking a compact addition to existing service modules. They are fixed directly at the workplace by a flexible clamping system. Service supply is ensured by a service module mounted on the ceiling or a floor-standing service spine. This product also impresses with the following features:
A range of different take-off valves for vacuum, gases or compressed air
Up to four 230 V sockets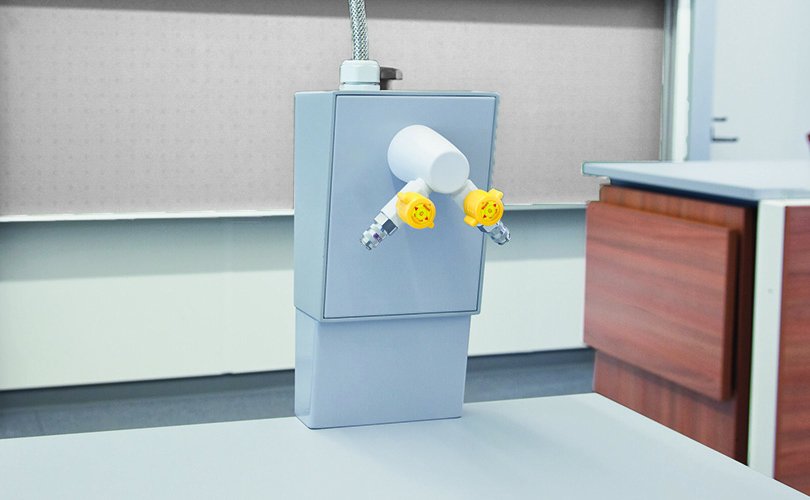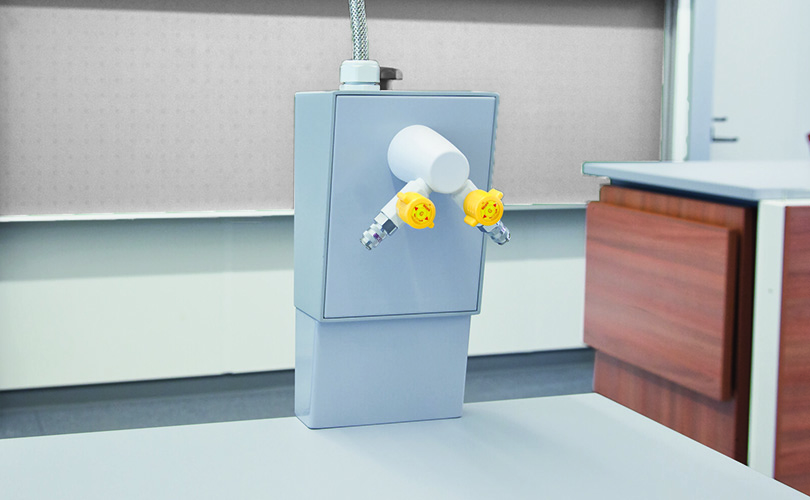 Bench-mounted service ducts
Bench-mounted service ducts are ideal to supply double-sided work benches with services. Special designs of service duct elements or service spines are mounted on a double-sided work bench to enable the workplaces on both laboratory benches to be perfectly supplied with the relevant services. The benefits of these service modules include:
Hatch below the service duct element
Combinable with various double-sided work benches
Modular mounting of spine components on the multi-purpose upright
Tool-free assembly of supplementary service duct element fittings
Designs for biological safety zones S1 - S3**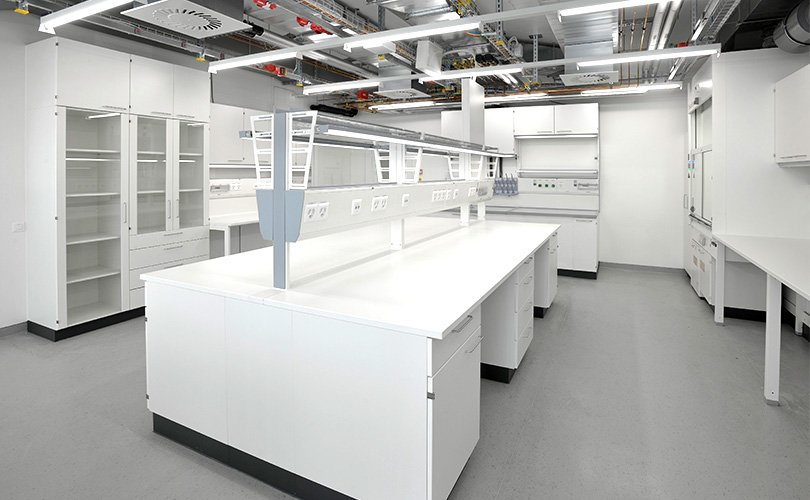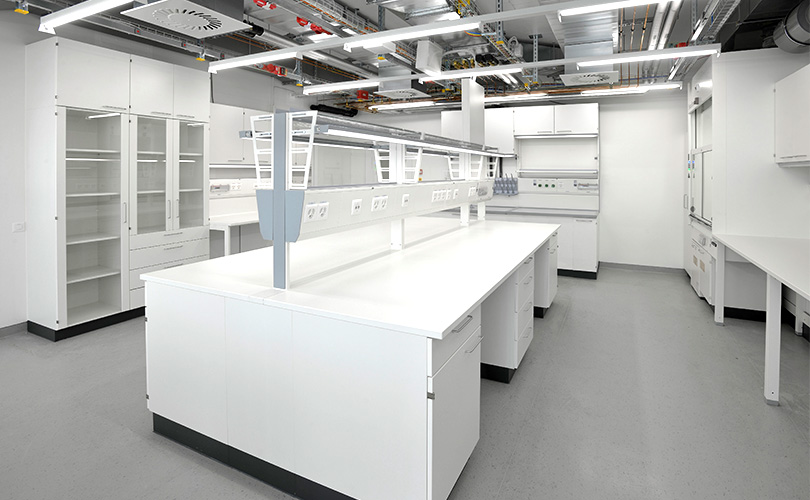 Curious?
Are you keen to equip your laboratory with the right service modules but do not know which design best suits your workplace? We'd be glad to help! Together with you, we will develop a customised solution for the service supply in your laboratory.
You might also be interested in