Variable and Individual Design
Waldner has the right laboratory fume hood for every application, whether you require a bench-mounted fume hood or a walk-in fume hood, have specific requirements governing the internal lining or require an explosion-protected design. The most diverse applications have an impact on the concept and equipment of the fume hoods and on the appropriate material selection. Thanks to their modular system, Waldner fume hoods can be ideally adapted to the dimensions and conditions within a laboratory.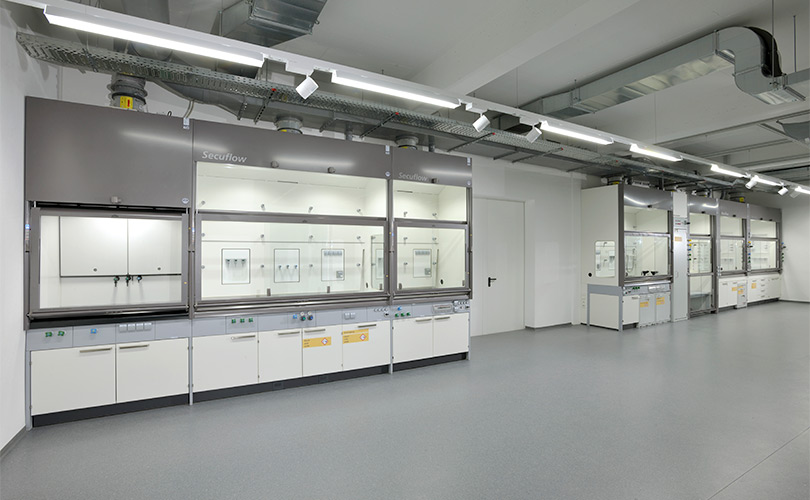 Laboratory Fume Hood Versions
Fume hoods with a rear wall installation have only 25 mm-wide side posts, guaranteeing the maximum possible access width. The control panel under the worktop is angled towards the user to ensure the best possible ergonomic posture when working.
Fume hoods with side installation integrate the control units on 100 mm-wide service panels positioned at the side. The respective extraction outlets and sinks are fully integrated in the side walls.
The fume hoodsare available in the following widths based on a 300 mm grid:
1200 mm
1500 mm
1800 mm
2100 mm
2400 mm
The internal volume is maximised by integrating the drip sink in the rear walls and/or side walls.

Moreover, the connection height of the fume hoods can be reduced to 2570 mm for low-ceiling rooms.
The interchangeable service modules are integrated in the rear and side wall of the fume hoods. They can be flexibly equipped for the supply of mechanical services and electricity to meet the customer's individual requirements.
Worktops and coatings can be produced from the most appropriate materials depending on the application:
Melamine resin facing / post-forming
Polypropylene
Solid (grade) laminate
Solid (grade) laminate Trespa Toplab+
Epoxy
Stainless steel
Stoneware
Stoneware-composite worktop
Glass
Apart from the structural design of the fume hood, the materials of the internal lining determine the type of aggressive services with which the fume hoodcan possible be used. Appropriate stoneware is used for the internal lining of special application fume hoods, particularly if they are to be used with sulfuric acid, hydrochloric acid or aqua regia.
Self-supporting underbench units can be used to store equipment and chemicals. They can be designed for acids/alkalis, solvents or cooling units, depending on the need.
Waldner SI 3 Steel type laboratory fume hoods are also available as side-installed steel fume hoods. If required, the internal lining can be produced in polyresin, solid (grade) laminate, polypropylene or stainless steel.
THIS COULD ALSO BE INTERESTING FOR YOU