Laboratory benches – the load-bearing element at the laboratory workplace
Waldner's laboratory benches have a wide range of uses in every area of the laboratory. They ensure flexibility in laboratories by systematically separating service supply and furniture. Excellent stability, linear design and seamless appearance: precision square steel profiles with reinforced cross-section are used for the bench frames so that they can easily withstand a load of 200 kg. Their overall homogeneous powder-coated finish protects the bench frames from external influences, creating a seamless appearance.
The variety of bench frames is capable of meeting all demands placed on laboratory workstations – from easy and optimum cleaning of the floor to greater legroom and ergonomic seating.
Worktops - material overview
All designs of our workbenches are equipped with individually selectable worktop materials
Melamine resin facing/post-forming>
Very flat
Destructive: concentrated hydrochloric acids, nitric acids, heated sulfuric acid
Use: mobile, add-on, window benches, equipment and laboratory benches in dry areas
Joint-free, flat, lightweight, excellent resistance to acids, bases and solvents, easy to dispose of
Destructive: ozone, concentrated nitric acid, chloroform, petrol, benzene
Use: areas with high resistance to chemicals, working with hydrofluoric acid radio-isotope areas where the absence of joints is crucial
Moisture-resistant, flat, easy to dispose of
Destructive: concentrated hydrochloric acids, nitric acid, heated sulfuric acid
Use: wet rooms, physical laboratories, benches exposed to medium loads
Solid (grade) laminate, EBC surface>
Antibacterial, Electron Beam Curing (EBC) surface, chemical resistance, moisture-resistant, flat, easy to dispose of
Destructive: concentrated hydrochloric acids, nitric acids, heated sulfuric acids
Use: chemical, microbiological, genetic engineering laboratories
Joint-free, flat, solid plate, excellent mechanical strength, easy to dispose of
Destructive: hydrofluoric acid, concentrated heated mineral acid
Use: laboratory workstations of all kinds
Seamless, excellent resistance to solvents, excellent temperature resistance
Destructive: compounds containing chlorine and bromine, formic acid, sulfuric acid
Use: very exacting decontamination and moisture resistance demands as well as solvent resistance, biology, microbiology, pharmacy, radio-isotope areas, pathology
Very best chemical resistance, mechanically stable, easy to dispose of
Destructive: hydrofluoric acid
Use: areas with very high chemical and mechanical exposure
Stoneware-composite worktop>
Flat, more lightweight than stoneware, best chemical resistance, easy to dispose of
Destructive: hydrofluoric acid
Use: areas with very high chemical and mechanical exposure
Flat, good resistance to chemicals
Destructive: hydrofluoric acid
Use: laboratory benches of all types exposed to large amounts of chemicals
Very stable
Underbench cabinets can be combined regardless of the grid dimensions
Support structure for analysis equipment and assemblies
Excellent stability
Load-bearing capacity 200 kg
Generous knee space and legroom
Maximum legroom
Mounted on service spine or wall
Load-bearing underbench unit>
Self-supporting underbench unit on plinth combined with worktops
Moveable bench frame for maximum flexibility
For installation of analytical balances and other sensitive measuring instruments,especially mounted, vibration-free fine concrete plates, vibration-decoupled
Total load of 500 kg, individual shelves can withstand up to 150 kg, mobile, multi-level storage area, freely adjustable work surfaces, heavy-duty castors (2 of which can be locked), suitable for measuring instruments/measuring instrument towers
Heavy-duty table frame including sliding handle
Height-adjustable work and storage area up to 950 mm (adjustable in 25 mm increments)
H-bench frame
Sliding elements are all fixed to 4 wheels in a sliding rail, which is located on the laboratory work bench
secretary
Moveable angled writing surface
Assistent
Fold-out storage and writing surface that can be moved on the laboratory bench
Protector
Moveable spray and splinter guard with safety glass
Access to service water needs to fulfil different requirements in laboratories. Generously sized laboratory sink modules, integrated sinks, drip cups and sink modules, integrated in service spines or fume hoods, are integrated into the laboratory as required. The materials used, including polypropylene, stainless steel and epoxy, are extremely durable.
The mobile laboratory sink units, which can be docked on suspended service booms or service columns, enable them to be quickly moved within the laboratory.
Laboratory basins and sinks
A wide range of designs, which can be combined with diverse worktop materials
Sink module integrated in service spine>
Made of polypropylene
Integrated into the service spine above the plane of the table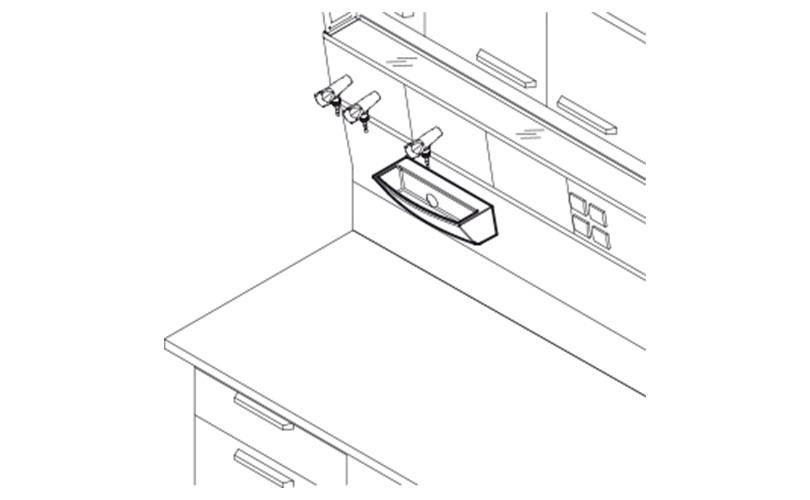 Drip cups in the worktop>
Drip cups are recessed directly into the worktop – polypropylene, epoxy resin or stainless steel are used here.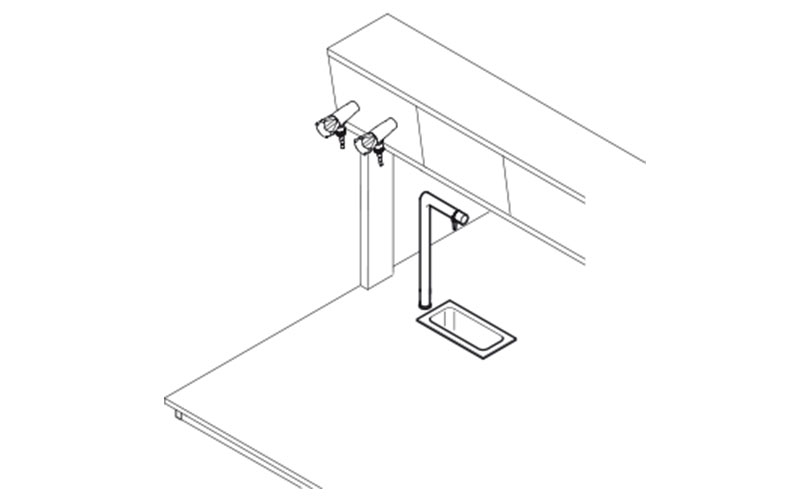 Complements the adaptable laboratory, possible under the service wing.
Flexible lines mean that it can be connected directly to the service wing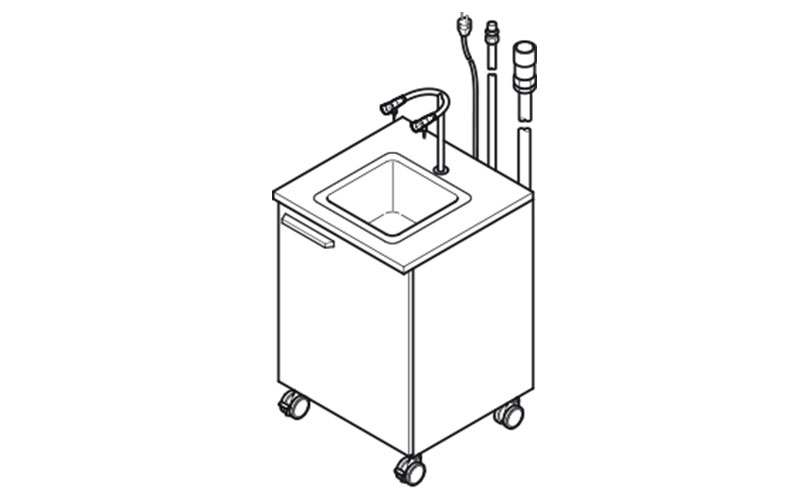 Plug-in compact system for straightforward supply and disposal of water with service modules
A lifting system discharges the waste water.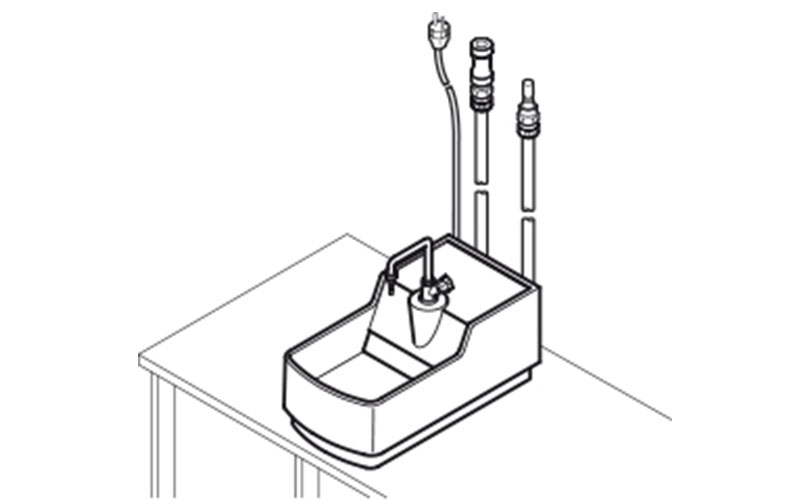 This could also be interesting for you